Hospital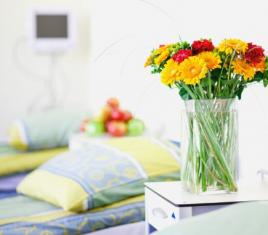 We ensure comfortable conditions throughout the stay and friendly assistance of well-qualified personnel.
KCM Clinic also includes highly specialist hospital with medical equipment of the highest class. The building, recently commissioned, contains a multimedia modern operating theatre, adapted for online conferences, and several wards:
Sports Orthopaedic and Trauma Ward with Minimal Invasive Spine Surgery Subward
Urology Ward with Nephrolithiasis Treatment Centre
Eye Microsurgery, Imaging Diagnostics and Laser Therapy Centre
At the hospital highly specialist procedures are conducted, including orthopaedic, general surgery, paediatric surgery, urology, gynaecology, as well as laryngology and ophthalmic procedures. KCM Clinic is the only entity in the region performing procedures such as:
cruciate ligaments reconstruction
laser treatment for cataract and glaucoma
laser endoscopic enucleation
comprehensive nephrolithiasis treatment (laser therapy, ESWL)
The hospital also contains the specialist Neurological and Orthopaedic Rehabilitation Centre, located in an air-condition room with a beautiful view to the Jelenia Góra Old Town.
To reduce patient's stress, the hospital resembles a hotel. Comfortably furnished single and double rooms with bathrooms and TV make postoperative stay pleasant. Many procedures are conducted in the 1-Day Surgery Clinic, so a Patient returns home on the treatment day.
Paediatric surgery
General surgery
Vascular surgery
Plastic surgery
Gynaecology
Laryngology
Neurosurgery
Orthopaedic
Ophthalmic
Urology
Maxillofacial Surgery
pricelist:
Urological treatments

Vasectomy reversal - microsurgery
TUR-BT  Transurethral Resection of Bladder Tumor
TURIS-P  Trans-Urethral Plasma Vaporization of the Prostate
TUIP Transurethral incision of the prostate TUIP with diathermy
Urinary incontinence surgery (with TVT or TOT method)
URSL Endoscopic stone removal from the ureter with holmium laser
LKL Endoscopic stone removal from the bladder  with holmium laser
« Offer